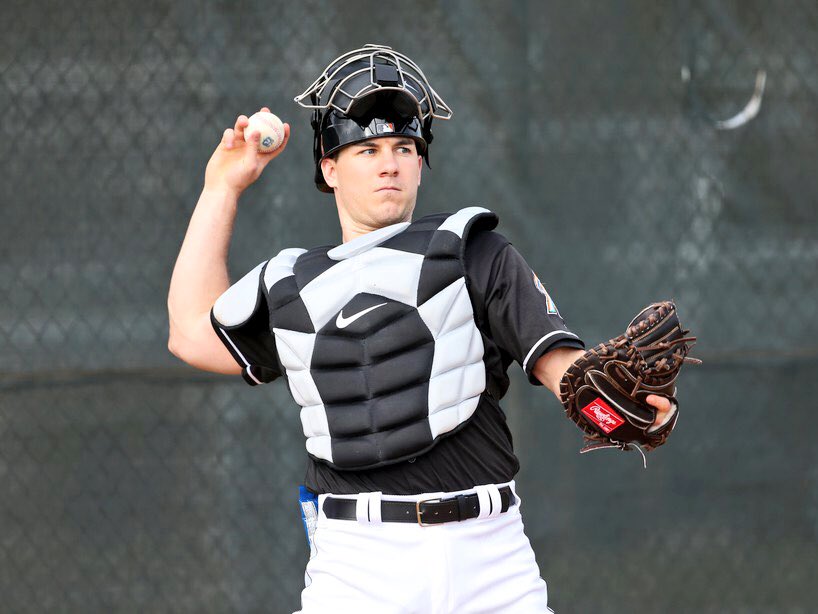 Former Sun J.T. Realmuto prepares for his first full season in the major leagues as the Marlins everyday season. Photo Courtesy: Miami Marlins.
By Roger Hoover / Jacksonville Suns
The Miami Marlins pitchers and catchers have reported for duty at Roger Dean Stadium, as Spring Training is underway for the Jacksonville Suns' parent club in Jupiter, Florida.
The first pitchers and catchers workout on Thursday was just part of a busy week for the club, with the Marlins celebrating "Play Ball" week across South Florida. Marlins players, coaches, and staff got involved with local charities to spread goodwill throughout the area, along with getting fans excited for the upcoming season.
The excitement culminated on Saturday, with Fan Fest at Marlins Park, with players very accessible to fans along with fun activities at the ballpark.
Head over to our Facebook page for #MarlinsFanFest photos: https://t.co/gCfdHkPtsSpic.twitter.com/pqXsGWeAMs

— Miami Marlins (@Marlins) February 21, 2016
While only pitchers and catchers will work out today, full-squad workouts start tomorrow, and we are now just over a week away from the first exhibition game of the spring between the Marlins and the University of Miami on Tuesday March 1 at Roger Dean Stadium at 1:05 p.m.
We've talked all offseason about new looks to the Marlins roster, but over the weekend it was revealed that all Marlins will look different, or try to look the same during this year. Manager Don Mattingly has instituted a strict no facial hair policy, so expect a clean-cut group throughout the season in Miami.
As for the Jacksonville Suns, preparation continues for the upcoming season of Suns baseball, and mascot Southpaw was once again very active over the weekend!
That's how you kick off a Friday!
Thank you for joining the #YouFirstSquad & keep it going w/ #LoveYourCommunity. ❤️ pic.twitter.com/kWViFF5S8O

— First Coast News (@FCN2go) February 19, 2016
Also it's important to keep in mind that the ballpark staff job fair is set for March 5 (9 a.m. – 1 p.m.) and 8 (4 p.m. – 7 p.m.) at the Baseball Grounds, as the Suns continue to build their gameday staff for this upcoming season.
Fans can also register for the March 10 National Anthem auditions at the Baseball Grounds. Interested individuals and groups may schedule an audition time by completing a registration form – available at www.jaxsuns.com – and emailing it to Promotions Manager Devin Jones at devin@jaxsuns.com or faxing to 904-358-2845.
It was also exciting to see that the Southern League Hall of Fame class for 2016 had such a Jacksonville Suns flavor. Peter Bragan, Jr., John Shoemaker, and Larry Ward all made a great impact on Jacksonville baseball and the league throughout the years and I've enjoyed getting to know them all. We were also fortunate to have all three of them appear on the Suns Baseball Network and The Jacksonville Suns Podcast during the 2015 season.
I was able to enjoy some baseball over the weekend at a Southern League stadium, as I provided play-by-play for my alma mater Tennessee against Memphis during a three-game series at AT&T Field, home of the Chattanooga Lookouts. It may have been gray and cool, but that's part of the charm of February college baseball! I'll also be on the call for baseball and softball later this week in Alabama, check out my Twitter page @Roger_Hoover for broadcast details!
Here are today's #MarlinsMonday links, Spring Training is here!
Marlins.com: Realmuto refocused on work as receiver
Marlins.com: Chen brings stability to Marlins' rotation
Marlins.com: Healthy Stanton: No more time for excuses
Miami Herald: Miami Marlins' Jose Fernandez and Chris Johnson OK as teammates after testy history
Miami Herald: Pitching coach Juan Nieves could prove to be huge hire for Miami Marlins
Sun Sentinel: Hyde: Bonds, back in baseball, ready to help Marlins
Sun Sentinel:Marlins owner ties fate of execs Samson, Hill to Mattingly hire
Fish Stripes: Adam Conley's chances at making the rotation
Yahoo! Big League Stew:Report: Aroldis Chapman could end up banned from spring training
Fox Sports: Marlins Add Pitcher-Fixer Jim Benedict
The New York Times: As a Species, the Knuckleball Flutters but Survives
The New York Times: Brewers' Ryan Braun Is Headed to Old Spot, Making Room in Right