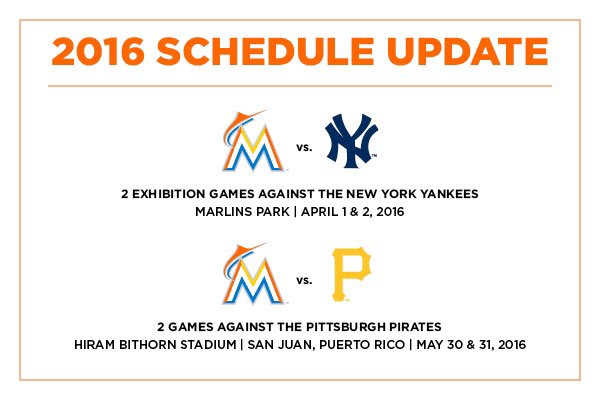 The Marlins announced updates to the 2016 schedule this week, with exhibitions against the Yankees in Miami and regular season games against the Pirates in Puerto Rico.
By Roger Hoover / Jacksonville Suns
It's been a busy week of news for the Jacksonville Suns parent club Miami Marlins, with major announcements for the 2016 Marlins club, along with speculation about next year's roster.
The Marlins spring training schedule has been released, with pitchers and catchers reporting to Jupiter, Florida on Febr. 19, full-squad workouts on Feb. 22, and then an exhibition match-up with the University of Miami on March 1 at Roger Dean Stadium.
Before the exhibition portion of the schedule comes to an end, the Marlins will be in Miami from April 1-2 to face the New York Yankees at Marlins Park.
The Marlins will also venture to Puerto Rico from May 30-31 to face the Pittsburgh Pirates at Hiram Bithorn Stadium as part of Roberto Clemente Day, which MLB commissioner Rob Manfred announced would be May 31.
There has been rampant speculation about whether Marlins ace Jose Fernandez, who pitched for the Suns last June as part of his rehab assignment, will be in Miami next season. MLB.com reporter Joe Frisaro believes Fernandez will be in a Marlins uniform for next year and years to come, and there are no plans to trade him at this time. Fernandez is under club control until 2018.
In Jacksonville preparations continue for the 2016 season of Suns baseball, and creative services manager Brian DeLettre put together a list of all 60 former Suns that saw time in the majors in 2015.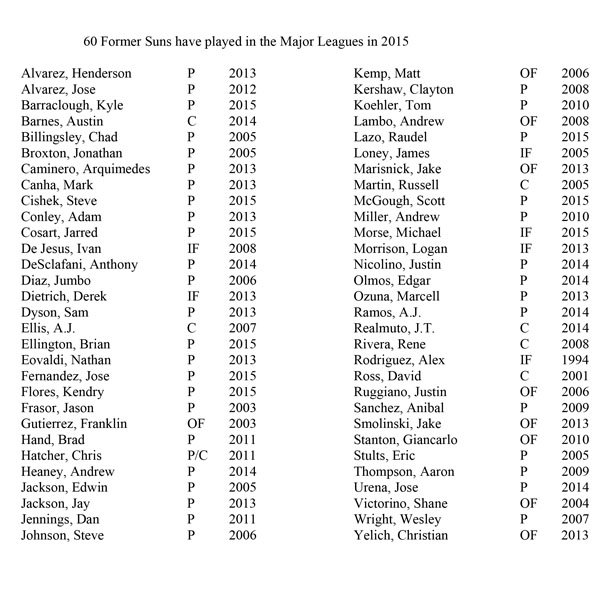 Also congratulations to our neighbors the Jacksonville Jaguars, who defeated the Tennessee Titans 19-13 last night on NFL Network. Personally I loved the gold jerseys, and would like to see them beyond this color rush game!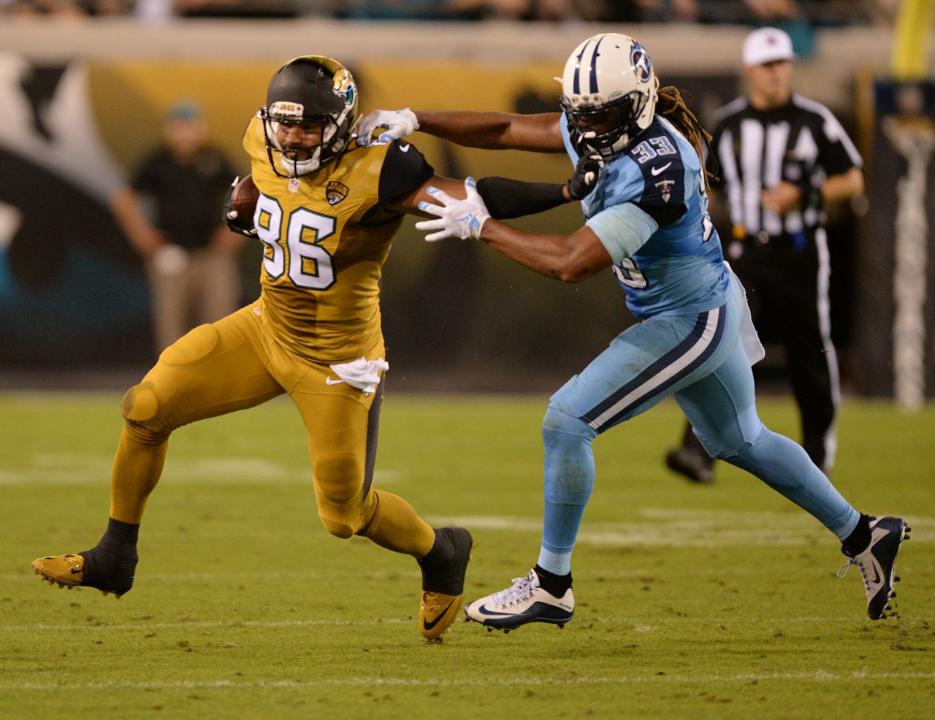 As for yours truly, I'm once again in the Yellow Hammer state, where I'll be on the call on the SEC Network+ on the WatchESPN app as the Alabama Crimson Tide host the Louisiana Ragin Cajuns in men's basketball at 8/7 central p.m. tonight. We'd love some viewers from Jacksonville!
Here are your #FishFriday links, have a great weekend everyone!
Marlins.com: Marlins to host Bucs in PR to celebrate Clemente
Marlins.com: Expanded safety nets, in-market streaming coming in '16
Marlins.com: Hechavarria could land a deal like Crawford's
Miami Herald: Loss of his mother to domestic violence spurred Dee Gordon to comfort others
Miami Herald: Sports Buzz: Marlins address Jose Fernandez trade report
Sun Sentinel: Miami Marlins 2016 Spring Training schedule [PDF]
Fish Stripes: 2016 Miami Marlins Offseason Plan: Strengths
Ballpark Digest: Texas League unveils new logo for 2016
Birmingham Barons:White Sox & Barons Extend PDC
Yahoo! Big League Stew: Nationals MVP Bryce Harper to the haters: "I enjoy getting booed"
Yahoo! Big League Stew: MLB announces tweaks to 2016 opening day schedule
The New York Times: Danger at the Ballpark, and in a Baseball Ticket's Fine Print
SportsonEarth:The best active non-MVPs